Indian Transplant Newsletter. Vol.21 Issue No.66, July 2022 - October 2022
Print ISSN 0972 - 1568
Organ Retrieval Workshop
Indian Transplant Newsletter.
Vol.21 Issue No.66
July 2022 - October 2022
Print ISSN 0972 - 1568
Print PDF
---
Safe organ retrieval is the cornerstone of successful organ transplant program. There is no established training mechanism in India for surgeons who wish to develop skills in organ retrieval technique.
Organ retrieval workshop had been held annually in collaboration with Oxford University Teaching Hospitals to train surgeons in safe organ recovery from deceased donors. The Indian Society of Organ Transplantation, Liver Transplantation Society of India, and National Organ and Tissue Transplant Organization (NOTTO) have all endorsed it. The workshop had also received the BMJ Award for Medical Education for its significant contribution to safe organ retrieval.
The retrieval workshop was conducted on September 3 & 4, 2022 at the MS Ramaiah Advanced Learning Centre in Bengaluru, which is one of the country's leading teaching anatomy laboratories. The course was carefully designed in collaboration with international leaders in organ transplantation to train aspiring transplant surgeons and improve them with the tips and techniques for a safe organ recovery. A total of 34 surgeons from all over India were trained in organ recovery using deceased donors.
The workshop had a series of lectures, educational videos, and exclusive lab based practical sessions. The workshop included a live webcast of a retrieval procedure on an anatomical specimen (cadaver model), which included heart, liver, and kidney retrieval on the following sites: ISOT, MOHAN Foundation, NOTTO, and transplantationliver.com.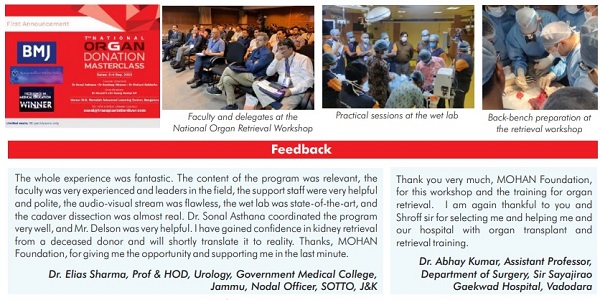 How to cite this article:
- Sujatha S, Shroff S. Organ Retrieval Workshop. Indian Transplant Newsletter. Vol.21 Issue No.66, July 2022 - October 2022
Copyright © 2023. Published by MOHAN Foundation
Keywords: retrieval workshop, MOHAN Foundation, Oxford University, BMJ Award
---