Indian Transplant Newsletter. Vol.21 Issue No.66, July 2022 - October 2022
Print ISSN 0972 - 1568
Aye Zindagi - Life Finds a Way
Indian Transplant Newsletter.
Vol.21 Issue No.66
July 2022 - October 2022
Print ISSN 0972 - 1568
Print PDF
---
Based on an incredible true story, Aye Zindagi is a Hindi-language film starring veteran South actress and 3-time National Film Award winner Revathy in the lead role. The story is about organ donation and liver transplantation, it showcases ethical organ donation and promotes the good that comes from it. As Dr Sunil Shroff, Founder & Managing Trustee, MOHAN Foundation, put it succinctly, "A must watch movie for all of us who believe in the cause of organ donation, it is perhaps the best medical drama made in Hindi."
Aye Zindagi is a very emotional and at the same time an educational portrayal of organ donation and transplantation and tracks what happened in 2004 in Hyderabad. It is based on the true story of Luv Dhody, a liver recipient and Lalitha Raghuram, Country Director, MOHAN Foundation, who was then the grief counsellor, guiding Luv at that time as he was struggling with end stage liver cirrhosis. Unfortunately, tragedy struck the Raghuram family and in a twist of fate, Lalitha lost her 19-year-old son Swamy Narayan to an accident and the Raghurams' took the decision of donating his organs to the needy, giving life to others, including Luv. Aye Zindagi charts the relationship between the two main protagonists and portrays the powerful message of organ donation. It showcases how the altruistic act of donation changes lives with so much positivity and brings hope to the recipients.
Dr Anirban Bose, the writer and the Director of the film, is the Associate professor of Medicine and Nephrology at the University of Rochester in Upstate NY. Advisory Member to MOHAN Foundation, Anirban is also an author and scriptwriter, with Harper Collins having published his three books titled Bombay Rains-Bombay Girls, Mice in Men and The Death of Mitali Dotto.
For Anirban, Revathy was always the first choice to play the character of Lalitha and he was thrilled when she agreed. Lalitha Raghuram, who was portrayed by Revathy shared her first reaction on watching the movie. She found the movie extremely well made and felt that Revathy has done a wonderful job. "In fact, everyone had acted very well and Dr Anirban Bose has done a fantastic job of portraying the entire incident so sensitively. As I watched the movie, 'Frame to Frame', I was remembering what happened 19 years ago", Lalitha added.
When asked, would you like to add or change anything, Lalitha Raghuram replied with her usual candidness and simplicity that she did not have anything to change or add to the movie. Lalitha emphatically said that the movie was complete in itself with an amazing message. The wonderful cast has done complete justice to the characters and the story.
Anyone who watches Aye Zindagi feels overwhelmed and shaken. When asked the core idea behind making this movie, Anirban mused that he was really hopeful that people will watch this film and take the underlying message which is that organ donation not only saves lives, it transforms lives.
This film can help them understand that organ donation and transplantation is one of the miracles of medical science like vaccines and antibiotics, but unlike these two, transplantation has the human element. "When we ask someone to donate the organs of a loved one, they are in the midst of a great loss, they are in grief and yet in the middle of their grief they can empathise with another human, a stranger, someone they will never meet, never get anything from him. This is the amazing beauty of organ donation. It brings out the beauty of humanity, the fact that we can empathise with someone else, be in someone else's shoes and feel their loss and suffering in the midst of our own crisis", said Dr Anirban.
The producers of the film are Shiladitya Bora and Anirban Bose. They both have become ambassadors of organ donation. They hope that people will sign up and pledge for organ donation after watching Aye Zondagi and realise that there is so much good to be had by becoming organ donors. "I hope it has a successful run but more than that I hope it has an impact and the movie can be transformative as far as society is concerned," Dr Anirban added.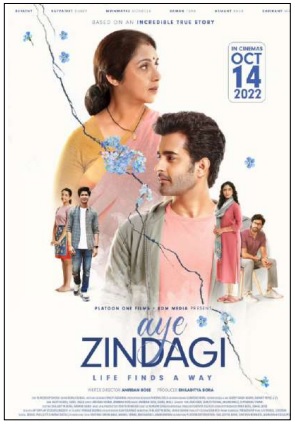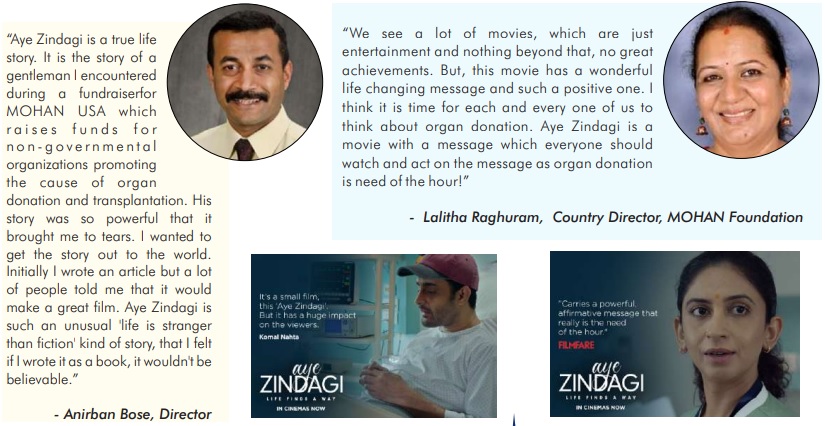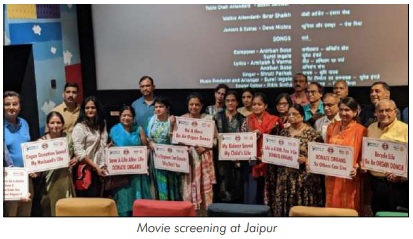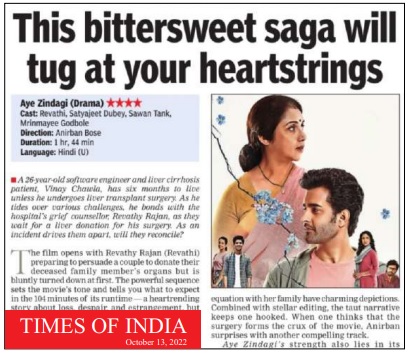 How to cite this article:
- Sujatha S, Shroff S. Aye Zindagi - Life Finds a Way. Indian Transplant Newsletter. Vol.21 Issue No.66, July 2022 - October 2022
Copyright © 2023. Published by MOHAN Foundation
Keywords: Aye Zindagi, Medical Drama, Liver transplantation, Grief Counselling
---