Indian Transplant Newsletter. Vol.18 Issue No.57. July 2019 - October 2019
One Week Transplant Coordinators' Training Programme Held in Visakhapatnam
---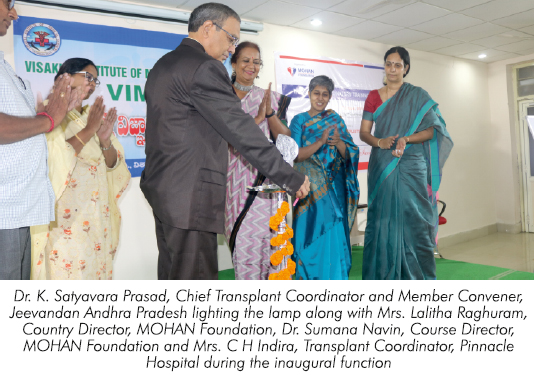 MOHAN Foundation in collaboration with Jeevandan, Andhra Pradesh conducted a one-week Transplant Coordinators' Training Programme from 14th to 18th October 2019 at Visakha Institute of Medical Sciences, Visakhapatnam. There were 40 participants not only from different places in Andhra Pradesh, but also Tamil Nadu, Karnataka, Chhattisgarh, Assam, and West Bengal. This was the 66th training programme conducted by MOHAN Foundation.
Dr. K. Satyavara Prasad, Chief Transplant Coordinator & Member Convener, Jeevandan, Andhra Pradesh was the Chief Guest at the inaugural function. MOHAN Foundation was represented at the training by Mrs. Lalitha Raghuram, Country Director, Dr. Sumana Navin, Course Director, Ms. Sujatha Suriyamoorthi, Manager – Information Systems & Programme Manager, Dr. Bhanu Chandra, Manager - Operations and Ms. Ann Alex, Programme Associate. Ms. Indira from Pinnacle Hospital was a part of the organising team.
At the valedictory function, Dr. G. V. Reddy from Pinnacle Hospital presented the completion certificates to the participants.
Note: The training programmes are supported by the Tata Trusts.
How to cite this article:
- Shroff S, Navin S. One Week Transplant Coordinators' Training Programme Held in Visakhapatnam. Indian Transplant Newsletter. Vol.18 Issue No.57. July 2019 - October 2019
Copyright © 2021. Published by MOHAN Foundation
Keywords: Visakhapatnam, Jeevandan Andhra Pradesh, Visakha Institute of Medical Sciences, Pinnacle Hospitals, Member Convener, Tata Trusts
---