Indian Transplant Newsletter. Vol.22 Issue No.67, November 2022 - February2023
Print ISSN 0972 - 1568
Ramp Walk For Life – An Initiative To Save Lives And Livelihoods
Indian Transplant Newsletter.
Vol.22 Issue No.67
November 2022 - February2023
Print ISSN 0972 - 1568
Print PDF
---
MOHAN Foundation celebrated its 25 years of saving lives through a unique "Ramp Walk for Life" wherein luminaries from various walks of life walked the ramp in Telangana Weaves and showcased their support for the cause on December 23, 2022. The event was held in partnership with Abhi­haara Foundation which promotes Telangana Weaves.
Actress Revathy, who was the first celebrity to pledge for a donor card in 1997 when MOHAN Founda­tion was established, was the Guest of Honour. Ms Revathy flashed her "Donor Card" and sin­cerely appealed to the public to pledge for organ donation. She also spoke about her recent ventures Aye Zindagi and Salam Venky, which dealt with organ donation. She spoke highly of the challenging work performed by the transplant coordinators - approaching families for organ donation during their darkest hour of grief.
Doctors, ce­lebrities, transplant recipi­ents and donor families walked the ramp wearing Telangana weaves to cre­ate awareness on organ do­nation. The transplant recipients (organ and cornea) also narrated their hardships and how transplant changed their life.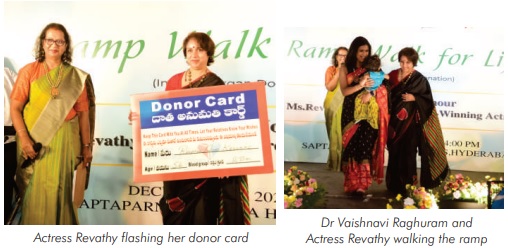 How to cite this article:
- Shroff S, Sujatha S. Ramp Walk For Life – An Initiative To Save Lives And Livelihoods. Indian Transplant Newsletter. Vol.22 Issue No.67, November 2022 - February2023
Copyright © 2023. Published by MOHAN Foundation
Keywords: Ramp Walk for Life, Telangana Weaves, organ donation, awareness, transplant recipients
---