Indian Transplant Newsletter. Vol.21 Issue No.66, July 2022 - October 2022
Print ISSN 0972 - 1568
Progress with Heart and Lung Transplantation in India
Indian Transplant Newsletter.
Vol.21 Issue No.66
July 2022 - October 2022
Print ISSN 0972 - 1568
Print PDF
---
India's thoracic organ transplant program has evolved in the past ten years and currently is the number one program in South Asian region. The global average of heart transplants stands at about 1.06pmp (2016 - 2018). Annually about 8,000 to 9,000 heart transplants are performed worldwide with almost 50% being performed by USA. South and Southeast Asia do less than 5% of the global heart transplants and India does over 90% of these surgeries.*
Similar is the story with lung transplantation. Over 7000 lung transplants are done globally of which over 40% are done by USA alone and India does most of the ones that are done in south and Southeast Asia.
India's progress with heart and lung transplants in the last decade reflects the growth of deceased donation program in the country. At present there are very few cardiac units in the country that have seriously invested their time and resources to this program.
The growth and the momentum has been possible due to local champions who have worked tirelessly. Though the growth has been largely confined to private sector hospitals, but despite all the logistical and financial challenges, progress has been truly remarkable.
This newsletter is dedicated to thoracic organ transplants and we bring international data along with two articles on the subject. The first article is by Dr.K.R.Balakrishnan, who has performed the maximum number of heart transplants in India (more than 50% of all heart transplants) and the second is from Dr. Dhiren Shah from Ahmedabad. Gujarat has recently shown an upsurge in deceased donation numbers and is likely to excel in the future with some world class hospitals coming up in the state.
*Global Observatory on Donation and Transplantation - http://www.transplant-observatory.org/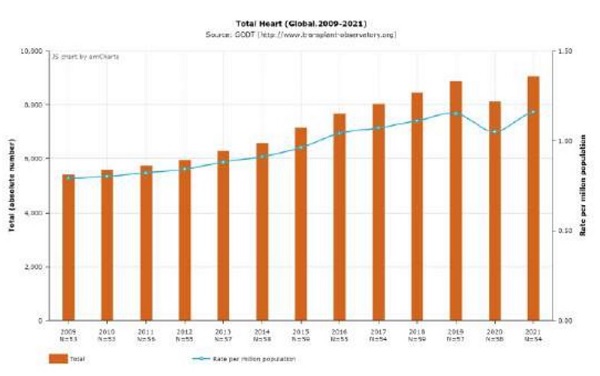 How to cite this article:
- Sujatha S, Shroff S. Progress with Heart and Lung Transplantation in India. Indian Transplant Newsletter. Vol.21 Issue No.66, July 2022 - October 2022
Copyright © 2023. Published by MOHAN Foundation
Keywords: Heart transplants, Lung transplants, Deceased Donation
---