Indian Transplant Newsletter. Vol.21 Issue No.65, March 2022 - June 2022
One-Week Transplant Coordinators' Training Programs
---
Chennai - March 21 - 25, 2022
The one-week face-to-face transplant coordinators' training program was attended by 22 participants from different parts of the country - Tamil Nadu, Puducherry, Andhra Pradesh, Karnataka and Rajasthan. The participants were from varied backgrounds such as nursing, social work, hospital administration, dialysis technology and physician assistant. Dr Amalorpavanathan J, Former Convenor - Transplant Authority of Tamil Nadu (TRANSTAN) was the special guest at the valedictory function. Rtn. Vijayagopal Reddy, Rotary Madras Southwest (RMSW) & Managing Trustee, Dodla Parthasarathy Reddy and Lalithamma
Trust also joined the function as an invited guest. 'Transplant coordinators play a pivotal role in transplant program and the success of this program lies on effective coordination and counselling', said Dr Amalorpavanathan J.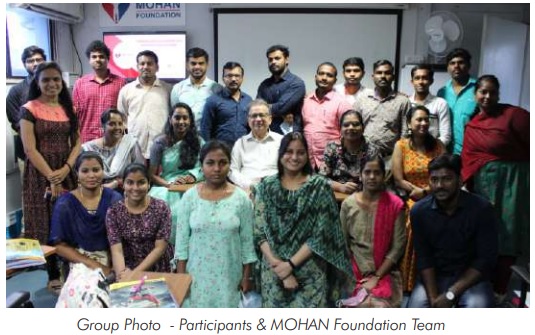 Delhi NCR - March 22 - 26, 2022
MOHAN Foundation in partnership with Manipal Organ Sharing & Transplant (MOST) conducted a training program on Transplant Coordination from March 22 to March 26, 2022 at Manipal Hospitals, Dwarka (MHD) under the aegis of National Organ & Tissue Transplant Organization (NOTTO). The training drew 35 delegates from 7 states: Haryana, Rajasthan, Delhi, Manipur, Gujarat, Sikkim and Uttar Pradesh. They included transplant coordinators, nurses, managers, senior executives, nurse educators, consultants, medical officers, marketing executives and counsellors.
As part of the training, a panel discussion and an open house were organized to address the participants' questions. Dr Harsha Jauhari (Senior Consultant, Department of Renal Transplant Surgery, Sir Ganga Ram Hospital), Ms Lalitha Raghuram (Country Director, MOHAN Foundation), Dr (Lt Gen) CS Narayanan (Head, Neurology, MHD), Dr Archana Kumari (Consultant Coordination, NOTTO), Dr Anurag Saxena ( Head, Neurosurgery, MHD), Dr Srikanth Srinivasan (Head, Critical Care, MHD), and Ms Nomita Sarkar (Head, Nursing, MHD) were among the panelists. The pannel discussion was moderated by Dr (Col) Avnish Seth (Head, MOST) and Ms Pallavi Kumar (Executive Director, MOHAN Foundation).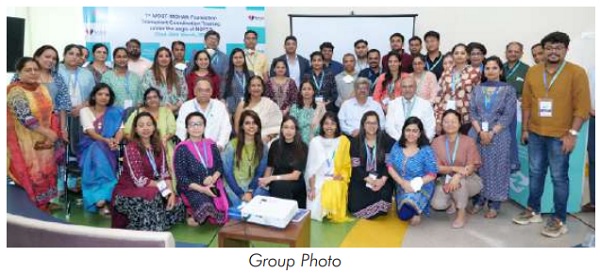 How to cite this article:
- Sujatha S, Shroff S. One-Week Transplant Coordinators' Training Programs. Indian Transplant Newsletter. Vol.21 Issue No.65, March 2022 - June 2022
Copyright © 2021. Published by MOHAN Foundation
Keywords: SBI Card & Foundation, Transplant coordinators' training program, TCTP, One Week Training
---