Indian Transplant Newsletter. Vol.20 Issue No.63. July 2021 - October 2021
Organ Donation and Transplantation in India – What has happened in the last 10 years
---
It has been just over 50 years since the first successful organ transplant took place in India at Vellore, Tamil Nadu. The kidney transplant surgery, involving a living donor was performed by the doctors of Christian Medical College in 1971.
While India's transplant journey in the last 5 decades has been promising, the country's performance in comparison with its international counterparts remains a matter of concern. With the COVID-19 putting brakes on the transplant program world over, India too faced a fair share of challenges. The transplant program in the country is slowly picking up speed, with cities like Mumbai witnessing a surge in donations in the last few months.
Tracking the transplant progress over the last decade is important to appreciate the growth of the program. The living and deceased organ donor numbers are tracked in this issue from 2011 to 2020. These figures have been derived from the Global Observatory.
Living donation rate (pmp)

Living donation rate was calculated with living donor kidney transplants and living donor liver transplants
Deceased donation rate (pmp)

Deceased donation rate includes donation after brain death (DBD) and donation after circulatory death (DCD)
Actual number of Living and Deceased Organ donors

Actual number of organ donors includes deceased donors (DBD, DCD) and living donors (liver, kidney)
Actual number of transplants in India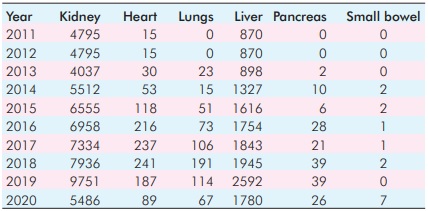 Actual number of transplants includes transplants from both deceased donors and living donors
Source: http://www.transplant-observatory.org/ (as on October 29, 2021)
How to cite this article:
- Sujatha S, Shroff S. Organ Donation and Transplantation in India – What has happened in the last 10 years. Indian Transplant Newsletter. Vol.20 Issue No.63. July 2021 - October 2021
Copyright © 2021. Published by MOHAN Foundation
Keywords: Living donation rate, Deceased donation rate, Global Observatory, COVID-19, decade
---