Indian Transplant Newsletter. Vol.18 Issue No.57. July 2019 - October 2019
Donor story
---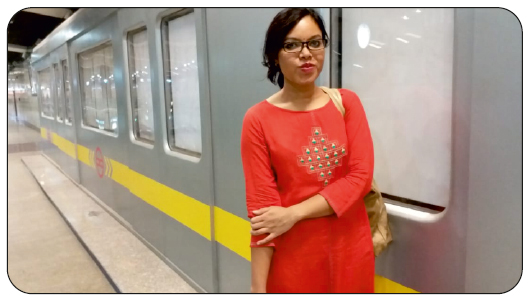 Sadhna Mundari was a shy young woman. She kept mostly to herself. While not very social, she was extremely passionate about her career. As an Apparel Designer and Fashion Merchandiser, she had ambitious plans for her future.
These plans were brutally cut short on the unfortunate day on August 08, 2019 when Sadhna was declared brain dead at Artemis Hospital (Gurugram).
Sadhna had fallen down in her bathroom a week back on July 31. While there was no apparent injury, she started getting headaches for which a neurologist was consulted who advised admission but Sadhna did not take that very seriously.
On August 05, 2019 she became dull and unresponsive and her friends took her to a hospital in Noida where she received primary treatment. She was later shifted to Artemis Hospital for further management where CT scan showed that she had brain haemorrhage. She had to be kept on ventilator support and on August 8, Sadhna was declared brain dead. She was only 27 years old.
When the doctors at Artemis Hospital along with MOHAN Foundation counsellor broke this news to Mr. Dashrath Mundari (Sadhna's father), he showed amazing calm and fortitude. He understood brain death and accepted that he had lost his young daughter. This gave courage to the team to bring up the subject of organ donation.
Amid all the grief and tragedy that had befallen him and his family, the brave man gave consent for organ donation. He understood that even though his daughter was no more, she was in a position to save many struggling to be alive. His only concern was that his daughter's organs be used wisely for the needy. Both her kidneys and her liver were used to save other people's lives. Corneas were also retrieved.
Sadhna was born and brought up in Bilaspur. She did her Bachelor's in Design from NIFT, Gandhinagar and worked in the city for some time. In 2014, she moved to Gurugram and started working with IFAZONE as Fashion Designer and Merchandiser. Sadhna displayed an interest in design from a very young age. Her mother recalls her childhood days when she used to draw designs and make clothes for her dolls. She pursued that interest and turned it into her vocation. Her mother said, Sadhna was a "laadli" in the whole family and that they wholeheartedly supported her decision in pursuing a career in Fashion Designing. The heartbroken mother could not hide the pain of losing her daughter and broke down while remembering her.
Sadhna's father, Mr Mundari, is a Manager at SARB (State Asset Recovery Branch) at SBI, Bhilai. He was the only family member that had come to the hospital from Bhilai and therefore alone when approached with this challenging request. He however said there was no doubt in his mind as he took this difcult but 'right' decision. He had to convince Sadhna's mother and sister back in Bilaspur of his decision. He shared that it was not an easy thing to do.
A close friend of Sadhna shared something extraordinary about her nature. He said that she was a very pure soul and if someone did something wrong she would always blame the situation, never the person. He also shared that the two of them had spoken about organ donation and that he wasn't surprised that her father agreed as this is what she would have wanted him to do.
Her last rites were performed with her family in Bilaspur, Chhattisgarh. She died a young, untimely death but remains alive in many people.
- Shafia Malik, Transplant coordinator, Artemis Hospital, Gurugram
How to cite this article:
- Malik, S. Donor story. Indian Transplant Newsletter. Vol.18 Issue No.57. July 2019 - October 2019
Copyright © 2021. Published by MOHAN Foundation
Keywords: apparel designer, fashion merchandiser, artemis hospital, brain haemorrhage, State Asset Recovery Branch, brain dead
---