Indian Transplant Newsletter. Vol.18 Issue No.57. July 2019 - October 2019
A Recipient of Two Kidney Transplants
---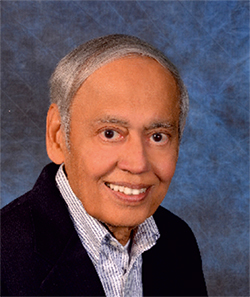 By
Swami Swaminathan
After growing up in India, I migrated to the U.S.A in my late twenties. Throughout my working life, I was active and healthy and had no major health problems. Then, suddenly one day, I got violently sick. Whenever I ate, I vomited shortly afterwards.
I was always tired. Initially, I thought that my sickness was due to jet lag from my trip to India. After a few days of suffering, I went to the hospital. After numerous medical tests, doctors at the hospital told me that my kidneys had failed and I was immediately put on dialysis treatment in May 2004.When I began dialysis, I had a catheter inserted in my chest to draw and filter my blood through the Kidney Dialysis machine. Later on, a doctor created a fistula in my arm through a minor surgical procedure. The fistula took about four weeks before it could form and be used for dialysis. My dialysis sessions lasted three hours each, and I had three sessions per week. However, this time frame can vary, based on individual patient's needs.
I developed infections repeatedly while I was on the catheter; a staph infection necessitated a hospitalization in my local hospital and subsequently at a city hospital, located 100 km away. When the city hospital changed my antibiotic, I began to improve immediately. Also, dialysis treatment can deplete the body of certain nutrients. To compensate, dialysis centers add supplements, such as calcium, Vitamin D and iron during the treatment. Due to over-prescription of iron (Epogen), I developed Non-Hodgkins Lymphoma and received chemotherapy treatment in 2006, in conjunction with the ongoing dialysis treatment. The stress of undergoing chemotherapy and dialysis treatments took a toll on me and I grew progressively weaker. I consulted an Integrative Medicine Doctor, who prescribed Glutathione treatment. It helped me to regain my strength and, in effect, saved my life.
Lesson Learned: My father and my first cousin died from kidney failure. I was never informed about their disease. Since I had not been aware of my family's history, I could not take any preventative actions ahead of time. In order to prevent such recurrence for my siblings and other relatives, I sent a detailed letter about our family's health history and about my health problems. In that letter, I also asked them to go for medical check-ups every two years in order to test and verify the adequate functioning of their kidneys. I hope other families in India do inform their siblings about their families' inherited diseases and about the need for undergoing appropriate medical check-ups on a regular basis.
When I got better, I successfully went through a series of requisite medical tests and qualified for getting a kidney transplant. After my qualification, I was put on the Waiting List for receiving a kidney from a deceased donor. Unlike with other organ transplants, a person can donate one of his/her kidneys and continue to live a normal life with the remaining kidney. Also, a live-donor kidney functions better and lasts longer than a deceased-donor kidney. Based on these facts, I was encouraged by the kidney transplant hospital to seek a live-donor kidney. Initially, two of my sisters in India expressed interest in donating one of their kidneys to me. However, when I asked them to be tested to see if their blood type matched mine, they got "cold feet" and did not comply. Upon checking with other kidney patients, I found that they had similar experiences with their relatives and friends also.
Solution: "The Kidney Donor's Journey - 100 Questions I Asked Before Donating My Kidney" by Ari Sytner is an excellent book for potential Live Kidney Donors and their intended kidney recipients. In the author's own words: "I wrote this book to serve as a bridge to educate and empower ordinary people to see a complete picture of the Kidney Donation Road-map." I would recommend that a copy of this book or a video based on the contents of this book be made available at dialysis centers and transplant hospitals, and even on YouTube, for educational purposes for both potential donors and recipients.
After five years on kidney dialysis, I received my first kidney transplant from a deceased donor in October 2009. Due to medical errors, my transplanted kidney lasted only three months and, as a result, I went back on dialysis treatment for an additional three years. After undergoing further medical tests, I was re-qualified for my second transplant. Finally, I received my second transplant in 2012. My second kidney has been functioning satisfactorily for the past seven years.
Follow the Rules: I strictly followed the prescribed dietary and fluid intake restrictions while on dialysis. These restrictions were lifted following my transplant. I take all medications, as prescribed. I know that doing otherwise could result in the failure of my transplanted kidney. In addition, doing regular physical exercises while on dialysis and after the transplant has made me feel better, both physically and mentally.
I know that many of my relatives and some of my friends in India are lax in taking prescribed medications for their medical conditions. However, failure to take the prescribed medications, especially immune-suppressant medications, as prescribed, will result in the failure of the transplanted kidney.
Caregiver Role is Critical: Dialysis patients require kind and compassionate care when they are on dialysis. Care giving should continue even after they have received transplants and stopped only when the patients are able to take care of themselves. In my case, my wife was my caregiver and she provided all the support that I needed. Caregiver training and Support Groups for their periodic interactions would be a good idea.
Setbacks Can Happen: As mentioned earlier, dialysis patients can get secondary infections and other diseases. Also, their transplanted kidneys could fail. They and their caregivers should be vigilant and take appropriate steps to overcome setbacks.
My Seva: Opportunities to Help Others
1. Patient Support Groups: Most dialysis centers in the U.S.A. have Patient Support Groups. With the encouragement of the Social Worker at my dialysis center, I participated in a Patient Support Group. I and other dialysis patients from my center, as well as from the nearby centers, attended the Patient Support Groups meetings at an outside location. We had the opportunity to compare notes about our respective dialysis treatments, our medications and our efforts to get on the Transplant Wait List. We all benefited from sharing our experiences and through our interactions.
2. PAC (Patient Advisory Council) Membership:I participate in meetings set up to monitor, improve and maintain the quality of services provided by dialysis centers in both my Regional Quality Monitoring Network (includes New Jersey, Puerto Rico and Virgin Islands) and the National Coordinating Center that has the overall responsibility for these activities.
Participants discuss the following in the meetings.
a) what we had learned as patients at our respective dialysis centers
b) changes and improvements that could help other dialysis patients and those patients who are on the Waiting List for transplants
c) our inputs when the Administrators discuss changes/improvements they want to recommend to dialysis centers
Recently, I proposed that a pharmacist be employed at every dialysis center in my region to examine all medications every dialysis patient is taking. In addition to the kidney disease, many dialysis patients have other health problems, such as diabetes, heart problems. As a consequence, they receive medications from many specialists and these specialists do not consult each other when they prescribe the medications. A pharmacist will be able to examine the prescriptions for every patient, identify those medications that either alone or in combination with the other prescribed medications, could affect the health of patients and relay them to the specialists who prescribed them. I also included two medical research reports as evidence for my proposal.
After lengthy discussions over two sessions, my regional network administrators have decided to conduct a trial using a pharmacist in one of the dialysis centers within the region.
3. My Gratitude:
Every night, I pray to God and express my gratitude for the following:
- God's blessing enabled me to receive two kidneys anonymously from total strangers for my transplants
- Due to Government regulations, kidneys from deceased persons nightly prayers include a request to God to bestow his blessings to the two deceased donors and their close relatives.
How to cite this article:
- Swaminathan, S. A Recipient of Two Kidney Transplants. Indian Transplant Newsletter. Vol.18 Issue No.57. July 2019 - October 2019
Copyright © 2021. Published by MOHAN Foundation
Keywords: kidney failure, dialysis, fistula, Non-Hodgkins Lymphoma, Glutathione treatment, inherited diseases, kidney transplant, deceased donor kidney, Kidney Donor's Journey, caregiver, patient support groups
---