Indian Transplant Newsletter. Vol.18 Issue No.56. March 2019 - June 2019
Shreya Siddanagowder – Asia's first bilateral above elbow hand transplant recipient
---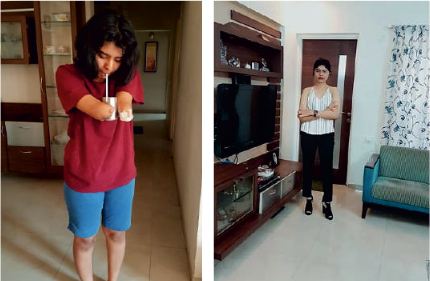 Back in 2016, I was pursuing my engineering from MIT, Manipal. I had dreams and aspirations like any other 18 year old. On 28th September 2016 my life took an unexpected and an unimaginable turn. I was in Pune with my parents for one week vacation. I was traveling back to Manipal in a Volvo coach bus. At around 5 a.m., due to the rash and negligent driver, the bus overturned and was dragged for a substantial distance of around 100 meters. In this tragic accident I sustained a lot of injuries. My right forearm was completely crushed, my left forearm was dangling through some muscles and skin, a bad injury on my right knee, my abdomen was filled with wounds and skin had peeled off, a deep injury in the chin, various cuts on my face and a head injury.
It's funny, how writing about my injuries doesn't perturb me anymore. I was rushed to Kasturba hospital in Manipal. Doctors couldn't save my forearms because of the magnitude of the crush injuries. Two days later when I was still in the ICU, my parents revealed that I had lost both my forearms. The loss of both forearms hit my consciousness like a paralysing dart. To be frank I didn't know how to react or what to say. But then my parents assured me that there were a few options available and they would support me in every possible way to make me independent again. Few days later, I saw my stumps for the first time. As the gauze bandages unravelled, I saw that it was all black, skin peeling out from a few places, blood oozing out …it was a gory sight. That's when reality punched me in my guts. I had been condemned to an existence I'd never choose. The loss of both my forearms was devastating. I had to surrender myself to the amputation. The most personal and basic needs such as going to the washroom, wiping my nose and even wiping my butt had been taken away from me. With the exception of breathing, swallowing food and walking, I was dependent on my mother for every other thing. Nevertheless, I am grateful to have a mother who would do anything for my comfort. There was a lot of self-bred negativity that I had surrounded myself with. The obscurity of my future perturbed me to no end. That feeling was so unsettling that I often asked my mother "why me?", "why have I been heaped with so much adversity." My mother said, "you have been heaped with so much adversity because only you can face it, and if you can't then I don't know who can." That's when I realised that giving up on myself is not an option.
I feel that you need to have a heart to see something good even the in the worst possible situation. I had lost my forearms, but I had not lost my legs and most importantly I had not lost my will and spirit to live. Within a few days I trained my toes to operate my phone, laptop, Kindle and even television remote. After a few months I started using prosthetic hands. I have used mechanical as well as myoelectric prosthesis (battery operated artificial hand). I despised them and dreaded to even wear them as they were heavy, manly, they had hooks and belts and were unwieldy. The prospect of leading my life of another 40-50 years with the help of prosthetic hands was mind numbing and I was under no obligation to lead a life without forearms because of someone else's mistake. When I was admitted in the hospital after my accident, my parents had mentioned about hand transplant and such a surgery had been thrice carried out successfully in India itself. My disdain for prosthetic hands made me consider bilateral hand transplant as the best possible option. My mother and I, we both used to google lots of articles and information related to hands, their functionality and the advantages and disadvantages of undergoing a hand transplant. Some people and doctors discouraged us and said that such a surgery is quite complex in nature and there is a high possibility that it would fail and I'd be back to square one. In fact, their actions and body language shouted that I'd be confined to the four walls of my house and leading my life with 'lakdi ke haath ' (wooden hands) as the best possible solution for me. But no amount of demoralising comments could deter me from my decision to get the transplant done.
I did know what I was signing up for and even the implications it came with. This surgery is complicated and extensive. It is a lifetime commitment because you have to take immunosuppressant drugs for the rest of your life and there are a few serious side effects of those drugs which may or may not arise. Also, unlike other transplants, a hand transplant recipient has to undergo intensive therapy and rehabilitation to gain functionality in the new hands and it depends upon the level of surgery. So, on 5th August 2017, I visited Kochi to meet Dr. Subramania Iyer (Dr. Iyer and his team are the pioneers of hand transplantation in India) and also to register my name on the Kerala organ donation site. Previously I had met Dr. Iyer twice to know more about the procedure and also to undergo a series of mandatory tests and a few counselling sessions. In the last few years there has been a lot of awareness regarding internal organ donation. Usually people are ready to donate internal organs but are reluctant to donate hands because of the cultural beliefs associated with respect to donating external organs. But I was fortunate enough to get a suitable donor match on the day of registration itself, without any waiting period. Before preparing for the daunting surgery Dr. Iyer asked me whether I had any apprehensions about receiving male hands. The answer was a straight no because I knew the importance of getting hands and also how much they mean to me. So, on 9th August 2017 after almost 14 hours of surgery, I became the first person in Asia to undergo a bilateral above elbow hand transplant and also the first girl in the entire world to receive male forearms. On the early morning of 10th August, after almost one year without forearms, I felt complete again. I cannot express the amount of happiness I felt when I saw my new hands for the first time or even the amount of gratitude I felt for Sachin, who is my donor and his parents. I've met his parents quite a few times and all they have ever said is that they've willingly and whole- heartedly donated most of his organs. Sachin is still alive in 6 people today. They will always be there in my prayers.
It has been more than 18 months since my transplant and I know how much it has transformed my life. I know that it's not a life-saving, but a life-altering surgery. Today I can do most of my work without anybody's help and this has given me a sense of unwavering confidence. I do know how life altering this surgery has been and it was possible because my donor's parents decided to donate his hands in spite of their grief. I will forever be grateful to them.
I've met some great doctors, therapists, nurses and other medical staff who have tirelessly worked on me since the last two years just so that I could be independent again. I am really glad they were a part of my journey. I have realised that in the last two years I've grown and transformed as an individual. Yes it was immensely hard, yes I've had my own share of frustration, angst and agony, but those were the days that helped me grow and love myself even more.
Today without any doubt I can say that I love the perfectly imperfect me as I am mentally stronger and tougher and no accident could take away my will power, grit, and determination. That accident could have been the end of me but strangely enough it turned out to be the beginning of something new, better, and beautiful.
How to cite this article:
- Shroff S , Navin S. Shreya Siddanagowder – Asia's first bilateral above elbow hand transplant recipient. Indian Transplant Newsletter. Vol.18 Issue No.56. March 2019 - June 2019
Copyright © 2020. Published by MOHAN Foundation
Keywords: Forearms, Dr. Subramaniya Iyer, hand transplantation, Life-altering surgery
---