Indian Transplant Newsletter. Vol.18 Issue No.56. March 2019 - June 2019
ICU Workshop on Brain Death and Organ Donation organized at Jawaharlal Nehru Institute of Medical Sciences, Imphal, Manipur
---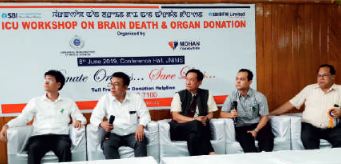 MOHAN Foundation in collaboration with the Jawaharlal Nehru Institute of Medical Sciences (JNIMS) organised an ICU Workshop on Brain Death and Organ Donation on 8th June 2019 in Imphal, Manipur with the support of SBI Foundation and SBI DFHI Limited. There were 90 participants at the workshop that included anaesthesiologists, intensivists, neurosurgeons, and nurses.
The dignitaries present at the inaugural function were the Chief Guest Prof. Th. Bhimo Singh, Director, JNIMS; Prof. S. Rajendra Singh, Former HOD, Dept. of Urology, Regional Institute of Medical Sciences (RIMS), Imphal; Mr. Aman Bhaiya, Asst. Vice President & Program Head, SBI Foundation, Mumbai; Dr. S. Thoibahenba Singh, Organising Chairman, Dept. of Anaesthesiology, JNIMS; Dr. Rakesh Nongthombam, Organising Secretary, Dept. of Anaesthesiology, JNIMS; and Dr. Sunil Shroff, Managing Trustee, MOHAN Foundation. A handy ICU manual for the participants was released on the occasion. Prof. Bhimo Singh said that they would focus on getting the transplant license for JNIMS. Mr. Bhaiya commented that SBI Foundation was keen on working towards more CSR involvement in Manipur. Dr. Shoff encouraged the audience saying that there was a unique opportunity in deceased organ donation to improve the profile of the state.
The expert faculty comprised Dr. Rahul Pandit, Director-Critical Care, Fortis Hospital, Mulund, Mumbai, Dr. Sunil Shroff, Mrs. Lalitha Raghuram, Country Director, and Dr. Sumana Navin, Course Director from MOHAN Foundation. Dr. Rahul Pandit said that organ donation is a by-product of good intensive care. He emphasised that establishing irreversibility is key in brain-stem death. He gave the participants a number of practical tips through case studies in his sessions on brain-stem death testing and certification, and management of a potential organ donor (Indian Society of Critical Care Medicine: Position Statement). Dr. Sumana Navin spoke about the legal framework for organ donation and transplantation in India, and Mrs. Lalitha Raghuram on how to start a deceased donation programme in a hospital. Films on testing for brain-stem death and counselling were shown.
Dr. Rajesh Waikhom, Nephrologist, spoke on 'Chronic Kidney Disease (CKD) in Manipur – Hospital based study.' He presented the results of retrospective data collection (May 2017 to May 2019) of 690 patients with CKD Stage 3 or above.
The cause was diabetes mellitus in 42%, unknown etiology in 32%, and renal stone – obstructive nephropathy in 19% of the patients. He said that 60% of patients were initiated on dialysis without any access and that the outcome of renal replacement therapy was very frequently limited by financial constraints. A number of activities throughout the day ensured practical learning.
The panel discussion on the way forward for Manipur was moderated by Dr. Sunil Shroff. The panelists included Dr. S. Thoibahenba Singh, Organising Chairman, JNIMS; Dr. Palin Khundongbam, Chairman c u m Man agi n g Di r e c t or, Sh i j a Hos p i t al s ; Dr. Goj e n d r a, Neurosurgeon, RIMS; Dr. Kennedy, Intensivist, Shija Hospitals, and Dr. K. Sholay Meitei, Urologist, JNIMS. At the end of the discussion there was consensus that the following needed to be done – educating doctors, paramedical staff, and the public about organ donation, strengthening ICUs, formulating a robust policy for organ donation in medico-legal cases, creating a state organ sharing network with allocation criteria, and forging a public-private-NGO partnership. The workshop ended with the distribution of certificates to the participants.
How to cite this article:
- Shroff S , Navin S. ICU Workshop on Brain Death and Organ Donation organized at Jawaharlal Nehru Institute of Medical Sciences, Imphal, Manipur. Indian Transplant Newsletter. Vol.18 Issue No.56. March 2019 - June 2019
Copyright © 2020. Published by MOHAN Foundation
Keywords: Renal replacement Therapy, nephropathy, Chronic Kidney Disease, Dialysis
---