Indian Transplant Newsletter. Vol.18 Issue No.56. March 2019 - June 2019
10th One Month Transplant Coordinators' Training Programme held in Chennai
---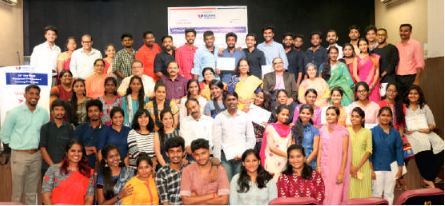 MOHAN Foundation conducted its 10th One Month Transplant Coordinators' Training Programme from 2nd to 29th May 2019 in Chennai. A total of 52 candidates from Assam, Maharashtra, Delhi, West Bengal, Karnataka, Kerala, Puducherry and Tamil Nadu were present. The participants hailed from various professional backgrounds such as social work, medical sociology, nursing, Accident and Emergency Care Technology, and dialysis technology. The training was supported by Tata Trusts and Astellas.
Highlights
Participants underwent a workshop on 'Basic Life Support (BLS)', which was conducted by Dr. G. Raja, Assistant Professor, A&E Department, & Instructor, Aarupadai Veedu Medical College and Hospital, Puducherry. They were also given the opportunity to visit an Eye Bank (Sankara Nethralaya's C U Shah Eye Bank), Skin Bank (Right Hospitals), Blood Bank (Dr. Rela Institute & Medical Centre and MGM Healthcare and Right Hospitals) and a Dialysis Unit (VS Hospitals and Sooriya Hospital). Mr. K. Veerapandian, Consultant Psychologist and Assistant Professor, The Banyan Academy of Leadership in Mental Health (BALM) took the participants through intensive sessions on counselling and ended with a mock counselling session. Dr. Suryakumari Duggirala, The Academy of Life and People Skills (The ALPS) encouraged the participants to bring out their creative side to tap social media and asked them to make awareness videos on public support for organ donation.
The training also included a session on 'Experience sharing by a transplant recipient' in which Ms. Vinitha, a liver transplant recipient spoke. She spoke about the quality of life before and after transplant. Mrs. Bharathi, Ms. Vinitha's mother shared her experience as a caregiver and how the family came to a standstill during that period, but fought back with the support of the doctors and transplant
coordinator.
Mrs. Usha Balasubramanian (also a participant) shared her experience of being a caregiver and how her husband lost his life to Chronic Kidney Disease. Dr. Anand Bharathan, Sr. Consultant Surgeon, HPB Surgery, Sri Ramakrishna Hospital, Coimbatore spoke on the General principles of organ retrieval. He also spoke on Ethical dilemmas in organ donation and transplantation during a dinner lecture for the faculty.
There was a panel discussion with senior transplant coordinators from various transplant centres in the city on the panel. The discussion was moderated by Ms. Sujatha Suriyamoorthi, Manager - Information Systems, MOHAN Foundation. The panel discussion touched upon areas such as legal liabilities of a transplant coordinator in the transplant programme; challenges when the same transplant coordinator works with both the recipient as well as donor (deceased / living donor); knowing about the recipients and their post-transplant conditions - how could it affect deceased organ donor families; space for transplant coordinators to express their ethical views within the programme.
Present at the valedictory function were Dr. R. Kanthimathy, Member Secretary, Transplant Authority of Tamil Nadu (TRANSTAN); Dr. Kishore Phadke, Convener, Jeevasarthakathe, Department of Health and Family Welfare, Government of Karnataka; Dr. M. Edwin Fernando, Prof. & Head, Department of Nephrology, Government Stanley Medical College and Hospital; Dr. Sunil Shroff, Managing Trustee, Mrs. Lalitha Raghuram, Country Director and Dr. Sumana Navin, Course Director from MOHAN Foundation. During the valedictory function, the participants received their completion certificates. They also shared feedback about the training and staged performances on 'Honouring the deceased donor families.'
Note: The participants of the Post Graduate Diploma in Transplant Coordination and Grief Counselling attended the face-to-face contact sessions on counselling, grief counselling, soft skills, and health care team management. They were also taken for field visits as per the course requirement. These components were incorporated into the one-month training as well. The E-learning programme is supported by Tata Trusts, SBI Foundation and SBI DFHI Limited.
How to cite this article:
- Shroff S , Navin S. 10th One Month Transplant Coordinators' Training Programme held in Chennai. Indian Transplant Newsletter. Vol.18 Issue No.56. March 2019 - June 2019
Copyright © 2020. Published by MOHAN Foundation
Keywords: Basic life support, Grief Counselling, deceased donor families, e-learning
---